DEDICATED TO THE MEN WHO SERVED IN 2nd BATTALION, 12th INFANTRY REGIMENT
and to their families & friends.
Greetings!
TOTALLY UNOFFICIAL 2/12th IN VIET-NAM WEB-SITE
for ALL COMPANIES
Compiled and directed (or misdirected)
by Bruce Holzhauer [Co. A 69-70]    Established in 2000
2nd BATTALION, 12th INFANTRY REGIMENT
4th & 25th Divisons
Ducti Amore Patriae  –  12th Infantry Motto
HAVING BEEN LED BY  LOVE OF COUNTRY
"War is delightful to those who have no experience of it."
Erasmus
A-2-12 COMPANY JEEP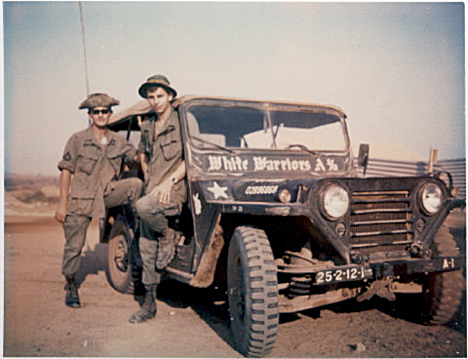 RTO Gordon Kimbel (L) and Ozzie Hoftender in 1969. The Jeep artwork was done by Ron "Zippo" Vanone (A Co. 3rd Platoon machine-gunner & talented artist), who did the logos and signage at FSB Pershing and Cu Chi in 1969.
All text, photographs, maps & illustrations are the property of their owners and may not be reproduced in any form without prior permission.
Note from Bruce Holzhauer :
This site was formerly hosted at:
Community-1.webtv.net/infantry2nbn12th/2ndBATTALION12th
I am moving to a new host
and am in the process of rebuilding.
The new URL is: http://12thinfantry2ndbattalion.com